Lake Louise Hotels & Lodges
With only a small number of hotels in Lake Louise to choose from, lodging options are somewhat limited, however there is a good enough variety of accommodation in Lake Louise to to ensure that most budgets and tastes are provided for. Some Lake Louise hotels are located on or close to the awe-inspiring Lake itself, while others are closer to the small village of Lake Louise, 4km downhill from the Lake. We have also included some properties within a 10 or 15 minute drive of Lake Louise.
Some accommodations in Lake Louise are only open during the summer and we have given the approximate seasonal opening dates in those cases.
Below you will find a comprehensive list of hotels and lodges in Lake Louise Alberta:
Featured Hotels
101 Village Road
Lake Louise, Alberta, Canada
Website: www.mountaineerlodge.com
Phone Number: 855 556 8473
Located in the village of Lake Louise, surrounded by forests and stunning mountain landscapes, the Mountaineer Lodge is a preferred Lake Louise hotel known for affordability and comfort. This hotel is an ideal base for discovering Banff National Park and only 3 kms to Lake Louise Ski Resort. The Mountaineer Lodge offers a variety of accommodations including couples suites and multi-bedroom suites. Many rooms feature a microwave and mini fridge, and hotel amenities include a relaxing hot tub, steam room, free parking and high speed wireless internet.
111 Lake Louise Drive
Lake Louise, Alberta, Canada
Rates & Availability: Click Here
With an absolutely stunning location overlooking pristine Lake Louise, the Fairmont Chateau Lake Louise offers a luxury Canadian Rockies experience like no other. The views over the lake and beyond to Victoria Glacier are awe-inspiring and some of the most scenic hiking trails in the Rockies start right from the hotel. Guest accommodations are exquisitely appointed, with Fairmont Rooms having either one king, one queen or two twin beds and the larger Deluxe Rooms offering one king or two queen beds. Both Fairmont and Deluxe rooms can be booked with a lake view, which is well worth the extra cost for the fantastic view. There is also a selection of suites as well as the Fairmont Gold rooms which provide the ultimate in luxury accommodation. The selection of hotel restaurants is outstanding and there are several unique gift stores and boutiques on site. The Health Club offers an indoor heated pool, whirlpool, steamroom, and fitness centre and the Escape Spa & Salon offers a range of spa treatments.
210 Village Road
Lake Louise, Alberta, Canada
Rates & Availability: Click Here
The Lake Louise Inn is situated a 5 minute walk from the village of Lake Louise, and a 5 minute drive from Lake Louise itself. There are abundant hiking trails in the vicinity of the hotel and Lake Louise ski resort is just a 5 minute drive or ski bus ride away. Accommodations are spread between several different buildings, including the main building where most of the public amenities are located. There are several room types, including suites with a kitchen and fireplace which are perfect for families, and many of the rooms are pet friendly. Legends Restaurant is open for breakfast, lunch and dinner and Timberwolf Pizza & Pasta Café is open for dinner only. The hotel bar, Explorers Lounge, is open in the evening and is popular for apres ski. Other amenities include a heated indoor pool, steam room, whirlpool, and a tea cottage which is open during the summer.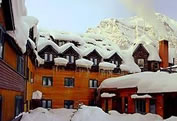 Deer Lodge
Deer Lodge
Lake Louise Drive
Lake Louise, Alberta, Canada
Rates & Availability: Click Here
Located just a 5 minute walk from the beautiful Lake Louise and a 5 minute drive from the village of Lake Louise, Deer Lodge offers lodging in a peaceful setting close to the Fairmont Chateau Lake Louise, and is perfectly situated for world class hiking, skiing, or for just strolling to the lake and taking in the views. This historic hotel is abundant with character and many of guest rooms reflect the history of the Lodge with a heritage design, while others are newly renovated in a modern style. Dining options are excellent, with the Mount Fairview Dining Room being one of the best restaurants in Lake Louise and the Caribou Lounge offering a more casual atmosphere to enjoy breakfast, lunch or an evening drink. This Lake Louise hotel also offers a rooftop hot tub with views of Victoria Glacier.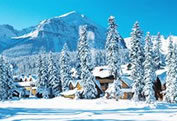 Post Hotel & Spa
Post Hotel & Spa
200 Pipestone Road
Lake Louise, Alberta, Canada
Rates & Availability: Click Here
With a riverside location close to Lake Louise village and a short drive to the stunning Lake Louise itself, the Post Hotel is a European style boutique hotel in Lake Louise which offers a luxury experience to the discerning traveller. Guest rooms have a rustic elegance and come in a variety of styles, most of which have a whirlpool tub and some of which have a fireplace. There is also a selection of beautiful suites as well as a small number of cabins. The dining room at the Post Hotel offers fine dining at its very best and both the restaurant and wine cellar have won many of the industry's most prestigious awards and accolades. Temple Mountain Spa offers a full range of treatments and a relaxing pool, perfect after a day of hiking or skiing!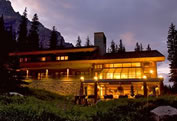 Moraine Lake Lodge
Moraine Lake Lodge
Moraine Lake Road
Lake Louise, Alberta, Canada
Rates & Availability: Click Here
Overlooking the turquoise waters of Moraine Lake at the start of the Valley of the Ten Peaks, Moraine Lake Lodge enjoys an exclusive location in the Canadian Rockies while being just a 15 minute drive from Lake Louise. The hiking trails leading directly from the Lodge take you to some of the most spectacular scenery in Banff National Park, and taking a canoe ride on the lake is the perfect way to relax while taking in the awe-inspiring surroundings. Offering first class Lake Louise accommodation from June until the end of September, guest rooms are tastefully appointed in a mountain style with lake and mountain views and some offer a wood burning fireplace. The Lodge also offers some Deluxe Cabins as well as a Honeymoon Suite with a private Jacuzzi tub. The Walter Wilcox Dining Room offers a refined menu rich in local cuisine and the Snowshoe Café offers a variety of snacks and light meals. Lodge amenities include complimentary guided hikes, complimentary canoeing, free breakfast buffet and free afternoon tea.