Cabins & Chalets
Relaxing by the fire in a rustic log cabin in the Canadian Rockies is an experience many of us dream of, and there are several options for mountain chalets and cabins in Lake Louise to help that dream become a reality. If you would like the amenities of a Lake Louise hotel combined with the cozy cabin experience, both Moraine Lake Lodge and the Post Hotel offer cabin accommodations within their hotel properties. Compared to Lake Louise hotels, the cabin and chalet accommodation is often found spread throughout several separate buildings in a natural forested area and many Lake Louise cabins include kitchens or kitchenettes, making them suitable for families or for anyone wanting to cook for themselves.
Some of the properties listed below are not open during the winter, as indicated in the property description.
Showing 1-4 of 4 cabin & chalet accommodations in Lake Louise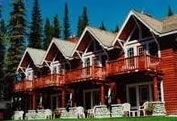 Paradise Lodge & Bungalows
Paradise Lodge & Bungalows
Lake Louise Drive
Lake Louise, Alberta, Canada
Rates & Availability: Click Here
Paradise Lodge & Bungalows offers a variety of Lake Louise cabins and suites just 1km from Lake Louise and 3km from Lake Louise village. Offering lodging from mid June until late September, the cozy cabin accommodations have been recently renovated and come in 4 styles, some of which have kitchen facilities and a claw foot soaker tub, and all of which have a cast iron stove/fireplace. The Lodge Suites are larger than the cabins, with the one bedroom suite having a kitchen, gas fireplace and outdoor deck, the two bedroom suite offering a fridge, microwave and balcony, and the honeymoon suite boasting a double Jacuzzi tub, fridge and balcony. There is no restaurant on site, however there are several excellent restaurants in the vicinity.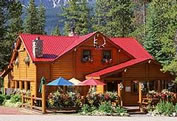 Baker Creek Chalets
Baker Creek Chalets
Highway 1A
Lake Louise, Alberta, Canada
Rates & Availability: Click Here
Baker Creek Chalets enjoys a tranquil location in a forested area on the Bow Valley Parkway, just 10 minutes drive from the hamlet of Lake Louise. Perfect for a relaxing mountain getaway, hiking trails, world class skiing, and scenic drives can all be found close by. Guest accommodations consist of one bedroom suites with full kitchen, Jacuzzi suites with fireplace and deluxe loft suites with kitchen and double Jacuzzi as well as a selection of chalets, each with a kitchen or kitchenette and wood burning fireplace. All rooms are beautifully presented in a traditional mountain style and have a log cabin feel to them. The Baker Creek Bistro is an excellent restaurant which uses high quality local and regional ingredients, and is popular with locals and visitors alike, and there is also a bar on site.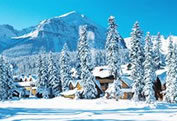 Post Hotel & Spa
Post Hotel & Spa
200 Pipestone Road
Lake Louise, Alberta, Canada
Rates & Availability: Click Here
Located close to Lake Louise village and 4km from stunning Lake Louise itself, the Post Hotel offers a high standard of Lake Louise accommodation mostly in hotel rooms and suites. There is also a small number of luxury cabins at the property, each with a fireplace, some of which have a riverside location. For the ultimate in luxury mountain living, Watson House is stunning private mountain home on the same property, with accommodation for up to 10 people. The dining room at the Post Hotel offers fine dining at its very best and both the restaurant and wine cellar have won many of the industry's most prestigious awards and accolades. Temple Mountain Spa offers a full range of treatments and a relaxing pool, perfect after a day of hiking or skiing!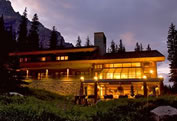 Moraine Lake Lodge
Moraine Lake Lodge
Moraine Lake Road
Lake Louise, Alberta, Canada
Rates & Availability: Click Here
Situated at the start of the Valley of the Ten Peaks, on the shore of the turquoise waters of Moraine Lake, Moraine Lake Lodge enjoys an exclusive location in the Canadian Rockies while being just a 15 minute drive from Lake Louise. The hiking trails leading directly from the Lodge take you to some of the most spectacular scenery in Banff National Park, and taking a canoe ride on the lake is the perfect way to relax while taking in the awe-inspiring surroundings. Offering first class Lake Louise lodging from June until the end of September, in addition to hotel rooms, the Lodge offers Deluxe King and Twin Cabins, designed in a mountain style with either one king or two twin beds, hardwood floor, and a wood burning fireplace. The Walter Wilcox Dining Room offers a refined menu rich in local cuisine and the Snowshoe Café offers a variety of snacks and light meals. Lodge amenities include complimentary guided hikes, complimentary canoeing, free breakfast buffet and free afternoon tea.